Have your cake and eat it too! Jaye's Pastries combines two delicious Filipino desserts – Sans Rival and Brazo De Mercedes into one. The resulting combination is Jaye's Pastries' award-winning Sans Rival Negrense.

What's Sans Rival and Brazo De Mercedes?

A Sans Rival is a unique, Filipino Dessert cake that combines buttercream, layers of meringue and chopped cashews. This cake has its origins in French Cuisine. How it ended up in the Philippines is a mystery, but who cares? It's now part of the Filipino food culture.
Brazo De Mercedes is a spanish influenced, egg based dessert that literally means "Arm of Mercedes" Brazo De Mercedes is a meringue roll with a type of custard filling. It is light and fluffy on the outside with a heavy, yellow colored filling.
In Bacolod, Jaye Jesena of Jaye's pastries thought of combining the two desserts. The result is the famous Sans Rival Negrense. She thought of making this dessert when she noticed that during parties her Sans Rival would be placed beside the Brazo de Mercedes.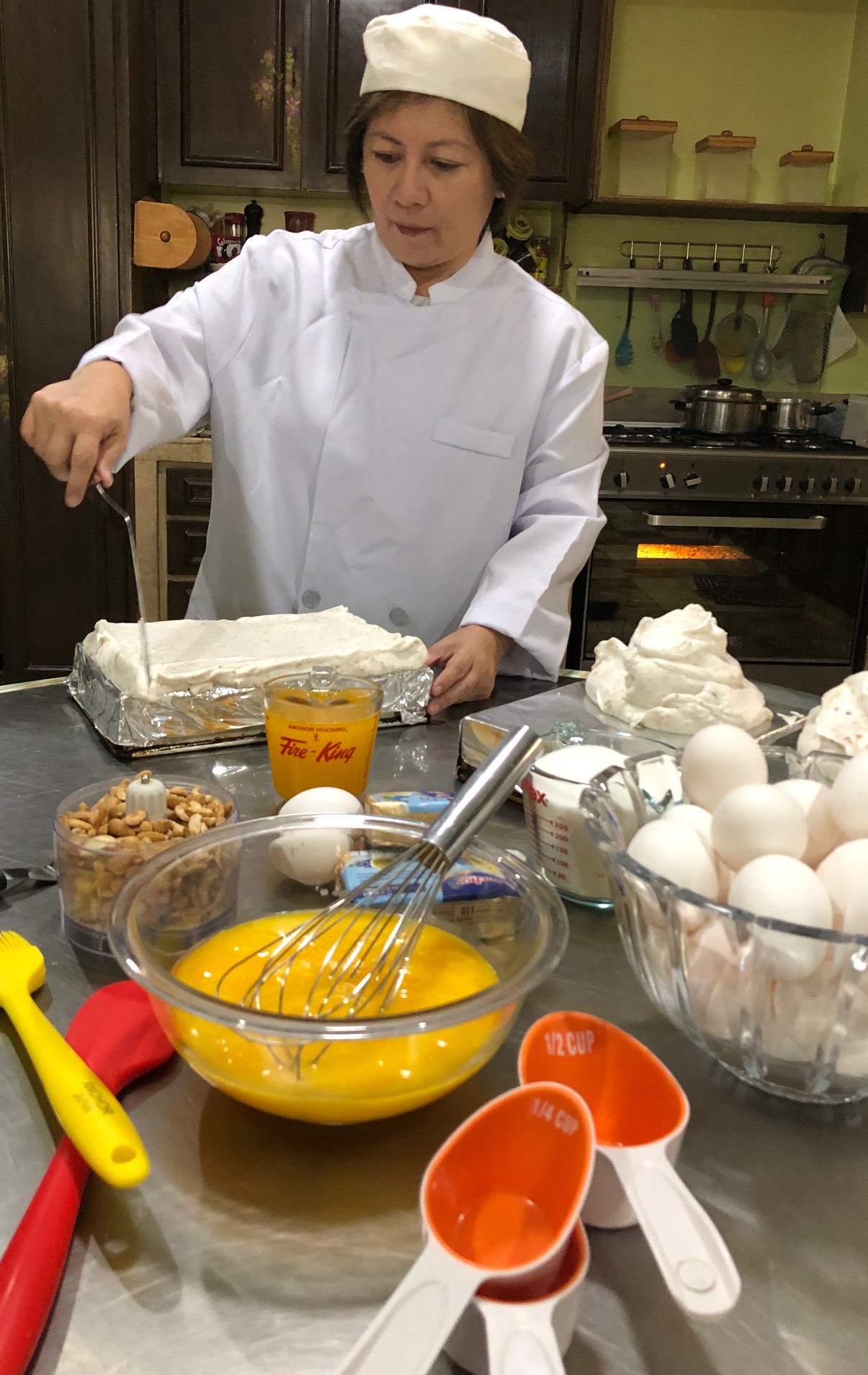 We ordered from her to show you – our readers how awesome the dessert is! It's so awesome, people in Manila have it shipped over from Bacolod City!
The Sans Rival de Negrense is a thing of beauty. Delicious buttercream icing, meringue layers and between them is the Brazo custard filling. Very delicious!
The Sans Rival Negrense was personally delivered to us by Jaye's son, Jec. It was ice cold when it arrived. We cut into it and were amazed how crisp and flaky the layers were. There's several layers of meringue and custard.
Verdict – The Sansrival Negrense is so good especially the custard layers! They're chewy and thick with a rich flavor. The custard complements the flaky meringue layers and the butter cream icing. It's a sweet dessert that we couldn't get enough of.
This is a great dessert to cheer you up during lockdown. A slice of this multi-awarded Sans Rival combination will certainly banish your Covid-19 blues.
You can order this dessert via Jaye herself. There's also a vanilla cream option
Jaye's Pastries website: https://sansrivalnegrense.net/#/home
Emails and Contact numbers
The Bacolod Food Hunters did not accept any freebies, incentives or payment for this article. Blogging is a hobby for us. We pay for our own purchases because we want to support local businesses. We practice ethical blogging. We blog for free!